Worldwide shipping
Free gift wrapping
14 days to return your purchase
Secure credit card payment with PayPal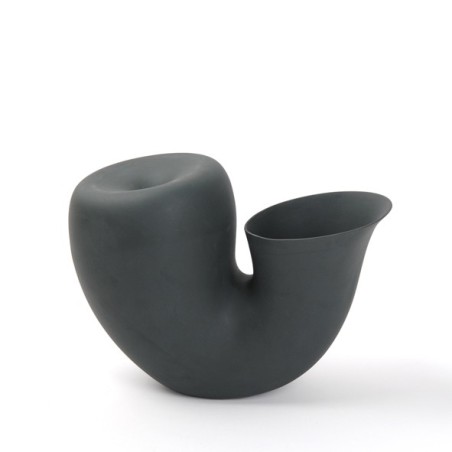  
Jug and cup
Description
Porcelain Jug + Cup by Aldo Bakker for Particles. Because of the performance that the Jug suggests, it never looks lost when it stands unused. For it even performs as it waits to carry out its function: pouring. To use it you turn it upside down so that the big opening points upwards and fill it with water. When full, the Jug balances on the table; when empty, you can turn it upside down again (to cover the cup). 
Details
Colour:

Black

Material:

Porcelain

Dimension:

27 x 19 cm

Brand:

Particles

Designer:

Aldo Bakker
Delivery and shipping
4-6 weeks
We ship our products Worldwide to all countries. We accept PayPal (Visa, MasterCard, Meastro, American Express, etc.) and bank transfers. If the goods are in stock you will receive them within 3-8 days provided that there are no unforeseen delays at the customs of your country. For some products it is more complicated to calculate shipping costs, because of dimensions, weight and fragility. The same goes for multiple items, specific packaging and certain destinations. If you order one of these products you will see a special message in your shopping cart.