Worldwide shipping
Free gift wrapping
14 days to return your purchase
Secure credit card payment with PayPal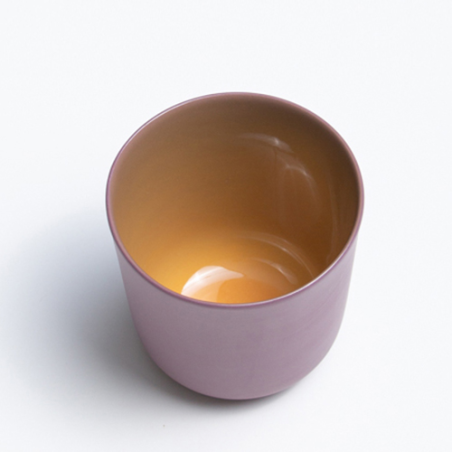  
200 ml cup Purple + Marigold
Description
200ml cup handmade and designed by Simone Doesburg for Grace of Glaze. The rhythm of stirring liquid porcelain, pouring it into a mold and then emptying it again brings her peace and joy. From porcelain granules a liquid porcelain is made. The consistency is like melted chocolate. After pouring this into a mold it becomes like leather. When the material is completely dry it becomes very fragile and it's brittle like biscuits. The first firing makes it porous and much stronger. In the last firing the powdery glaze melts into intense and brilliant colored glazes. The porcelain clay body becomes very strong, vitrified and has a stone-like feel to it.

Dishwasher and microwave safe.

All products are handmade.

Slight variation in shape and glaze application can be expected. Colors may vary slightly due to positioning in the kiln.

Stacking these products is possible but might impair the shine of the glaze in time.
Details
Colour:

Purple + Marigold

Material:

Handmade porcelain

Dimension:

∅ 8,5 x 8 cm 200 ml

Brand:

Grace of Glaze

Designer:

Simone Doesburg
Delivery and shipping
3-8 days
We ship our products Worldwide to all countries. We accept PayPal (Visa, MasterCard, Meastro, American Express, etc.) and bank transfers. If the goods are in stock you will receive them within 3-8 days provided that there are no unforeseen delays at the customs of your country. For some products it is more complicated to calculate shipping costs, because of dimensions, weight and fragility. The same goes for multiple items, specific packaging and certain destinations. If you order one of these products you will see a special message in your shopping cart.