Worldwide shipping
Free gift wrapping
14 days to return your purchase
Secure credit card payment with PayPal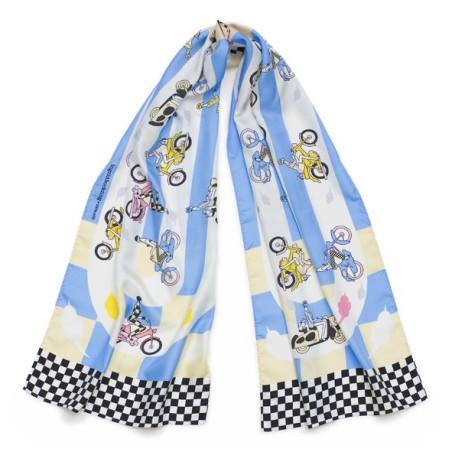  
Scarf The Race
Description
Silk scarf The Race part of the We Made Shawls series designed by illustrators Leendert Masselink and Ingrid Bockting. Op deze racebaan à-la-Lingotto tuffen geblokte dames oneindig rondjes op hun onweerstaanbare Puchjes. At this racetrack à-la-Lingotto chequered lady's circle forever on their irresistible mopeds.
Details
Colour:

Yellow, blue, black, white and pink

Material:

Silk

Dimension:

44 x 170 cm

Brand:

Leendert meets Ingrid

Designer:

Leendert Masselink and Ingrid Bockting
Delivery and shipping
2-3 weeks
We ship our products Worldwide to all countries. We accept PayPal (Visa, MasterCard, Meastro, American Express, etc.) and bank transfers. If the goods are in stock you will receive them within 3-8 days provided that there are no unforeseen delays at the customs of your country. For some products it is more complicated to calculate shipping costs, because of dimensions, weight and fragility. The same goes for multiple items, specific packaging and certain destinations. If you order one of these products you will see a special message in your shopping cart.