Worldwide shipping
Free gift wrapping
14 days to return your purchase
Secure credit card payment with PayPal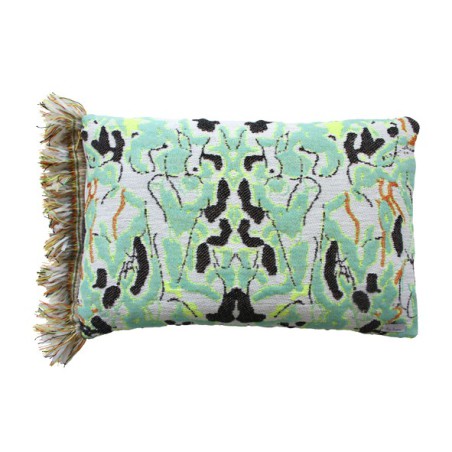  
Cushion Fun Green S
Description
Cushion Fun Green S part of the Fringe collection designed by Roos Soetekouw. The origin of the Fringe collection lies in the mattress fabric that Roos designed for Hotel The Exchange in Amsterdam. For this fabric she pealed open a mattress, the glue pattern inside was so pretty. This was the inspiration for the graphic design of the fabrics. She draw, scan, paint, scan, print and do all of this over and over until the pattern looked the way it does now. For the Fringe collection she took the same design but researched other ways of weaves.
Details
Material:

17% linen, 17% non woven ribbon, 16% acryl, 16% polyester, 17% wool and 17% mohair

Dimension:

35 x 50 cm

Brand:

Roos Soetekouw
Delivery and shipping
3-4 weeks
We ship our products Worldwide to all countries. We accept PayPal (Visa, MasterCard, Meastro, American Express, etc.) and bank transfers. If the goods are in stock you will receive them within 3-8 days provided that there are no unforeseen delays at the customs of your country. For some products it is more complicated to calculate shipping costs, because of dimensions, weight and fragility. The same goes for multiple items, specific packaging and certain destinations. If you order one of these products you will see a special message in your shopping cart.