Worldwide shipping
Free gift wrapping
14 days to return your purchase
Secure credit card payment with PayPal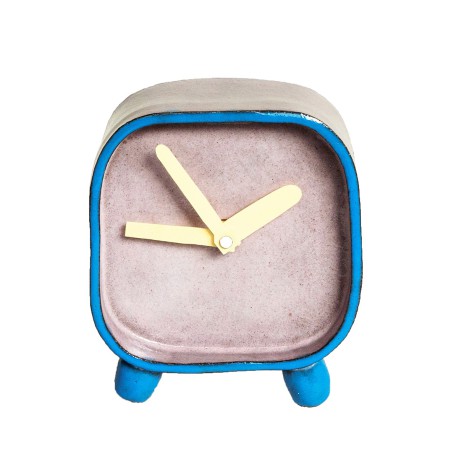  
TV Clock - handmade stoneware
Description
TV Clock by Sunwoo Jung for her own label Kind Kow. Uniquely Designed handmade stoneware table clock by Sunwoo Jung for her own label Kind Kow.
The Analog clock is one of the objects that is disappearing in accelerated modern society with the appearance of various gadgets. By making ceramic analog clocks, Sunwoo focuses on things that are being passed and vanishing. She proposes to catch our breath by observing the time flowing in the fast currents of our time.
- All works are fully handbuilt and one-of-a-kind, which means the color and size may vary slightly
- Arms are made of specially colored resin, and thick papers
- Powered by AA battery / Equipped with a silent mechanism
Details
Colour:

Blue, pink, yellow

Material:

Stoneware

Dimension:

130 × 150 × 65 (mm)

Brand:

Kind Kow

Designer:

Sunwoo Jung
Delivery and shipping
3-8 days
We ship our products Worldwide to all countries. We accept PayPal (Visa, MasterCard, Meastro, American Express, etc.) and bank transfers. If the goods are in stock you will receive them within 3-8 days provided that there are no unforeseen delays at the customs of your country. For some products it is more complicated to calculate shipping costs, because of dimensions, weight and fragility. The same goes for multiple items, specific packaging and certain destinations. If you order one of these products you will see a special message in your shopping cart.