Worldwide shipping
Free gift wrapping
14 days to return your purchase
Secure credit card payment with PayPal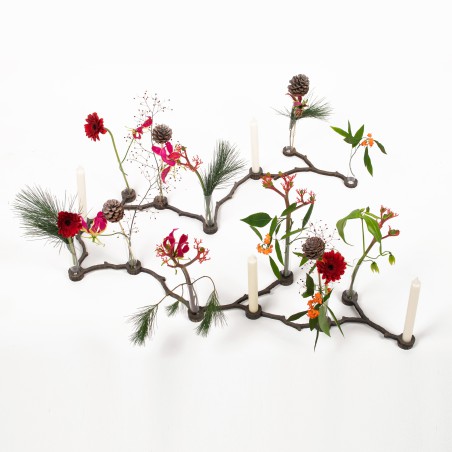  
Candle Vase Bronze 10 | Atelier René Knip
Description
Candle Vase Bronze 10 by Atelier René Knip. This steel candle vase has a modular structure of different branches, giving you the freedom to create your own sculpture in form and function. Large or small, long or wide, vase or candlestick, you decide! The candle vase comes in one, two of three beautiful gift boxes with each 5 branches, four rings, eight glasses and two vegetable candles. This set contains: 10 branches, 8 rings, 16 glass vases and 4 candles.
Details
Colour:

Bronze, glass and white candles

Material:

Bronze plated steel

Dimension:

See image

Brand:

Thomas Eyck

Designer:

René knip
Delivery and shipping
3-8 days
We ship our products Worldwide to all countries. We accept PayPal (Visa, MasterCard, Meastro, American Express, etc.) and bank transfers. If the goods are in stock you will receive them within 3-8 days provided that there are no unforeseen delays at the customs of your country. For some products it is more complicated to calculate shipping costs, because of dimensions, weight and fragility. The same goes for multiple items, specific packaging and certain destinations. If you order one of these products you will see a special message in your shopping cart.