Worldwide shipping
Free gift wrapping
14 days to return your purchase
Secure credit card payment with PayPal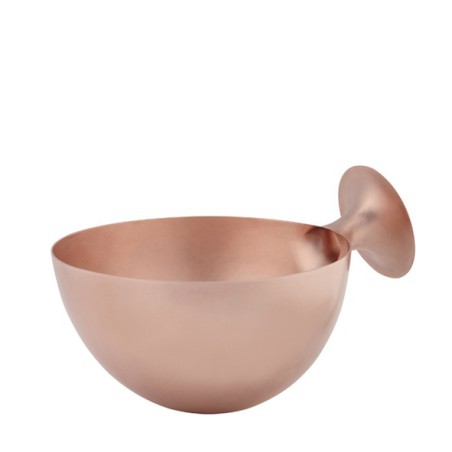  
Mixing bowl Copper collection
Description
Mixing bowl part of " The Copper Collection", designed by Aldo Bakker for Thomas Eyck. "The copper collection" consists of different objects based on the contemporary handwriting of Aldo Bakker in perfect harmony with traditional and new production techniques. Aldo Bakker allows his products to take shape on the basis of analysis so that they can question their usage and, where necessary, give rise to new rituals or break existing patterns. This fresh and innovative approach by Aldo Bakker to very old and new techniques like moulding, galvanizing and lacquering has resulted in an astonishing collection. Limited and numbered edition of 15.
Details
Material:

Copper.

Dimension:

Ø 17 x h 21,5 cm.

Brand:

Thomas Eyck

Designer:

Aldo Bakker
Delivery and shipping
1-2 weeks
We ship our products Worldwide to all countries. We accept PayPal (Visa, MasterCard, Meastro, American Express, etc.) and bank transfers. If the goods are in stock you will receive them within 3-8 days provided that there are no unforeseen delays at the customs of your country. For some products it is more complicated to calculate shipping costs, because of dimensions, weight and fragility. The same goes for multiple items, specific packaging and certain destinations. If you order one of these products you will see a special message in your shopping cart.