Worldwide shipping
Free gift wrapping
14 days to return your purchase
Secure credit card payment with PayPal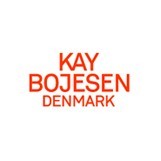 Kay Bojesen (1886–1958) was an apprentice of Georg Jensen, training as a silversmith in 1910. After a few years in Germany and France, he began working as a silversmith in Copenhagen. In the 1930s he realised there was something particularly lively about wood, and his wooden figures have made him one of the great pioneers of Danish art manufacture. This led to the classic guardsmen and a whole zoological garden taking shape between his hands. Kay Bojesen's premise in his work was a conviction that his objects should have life, blood and a heart. People should want to pick them up, and they should radiate humanity, warmth and vibrancy. The monkey was produced in accordance with Bojesen's motto that lines should smile. In the early 1950s, it was so popular that it was exhibited at the Victoria & Albert Museum in London. Kay Bojesen's productions are characterised by an inherent sense of simplicity, naturalness and clean lines.
Products
No products for this Brand.