Worldwide shipping
Free gift wrapping
14 days to return your purchase
Secure credit card payment with PayPal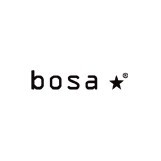 Italo Bosa started his Italian business more than 30 years ago together with his family and collaborators by creating artistic ceramics in Borso del Grappa, a small village between Bassano and Asolo. Tradition, knowledge of the artisan job and its secrets and research are the characteristics of Bosa Ceramics, a company which realizes the most glamour and modern shapes of the traditional ceramics. Bosa products like vases, lamps and furnishing complements are completely made by hand and they are often enriched with precious metals decorations and with own colours (the glazes are created and melted in the laboratory in order to have a personal colours range). It's already more than 20 years ago that Bosa opened it doors to the best designers, starting from a cooperation with Marco Zanuso jr., Palomba-Serafini Studio, Satyendra Pakhalé, Patricia Urquiola, Marco Morosini, Sam Baron, Luca Nichetto and the genial and famous Jaime Hayon.
Products