Worldwide shipping
Free gift wrapping
14 days to return your purchase
Secure credit card payment with PayPal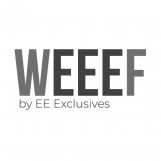 WEEEF is an online art gallery, focused on woven art and design. WEEEF is the showcase of EE Exclusives' craftsmanship to the world, woven in Heeze since 1900. Textile company EE Labels / EE Exclusives was founded in 1900. The family business has been producing woven labels and ribbons for many years. In 2000, when they celebrated their 100th anniversary, they became friends of Design Academy Eindhoven. Since then they have realized many collaborations with designers such as Kiki van Eijk, Marcel Wanders, John Körmeling, Viktor&Rolf and many others. Each work is made in a Limited Edition, numbered and comes with a Certificate of Origin. Everything is developed in close co-creation with the artists and woven locally by EE Exclusives in Heeze, the Netherlands. All works are made to the highest standard of detail and material. EE Exclusives is the first OEKO-TEX STeP certified textile company in the Netherlands, which is why all works are produced sustainably. EE Exclusives is also a proud purveyor of the Dutch royal court. WEEEF makes it possible to become the proud owner of your own beautiful woven art.
Products
No products for this Brand.